Dharma Gates Are Boundless offers a unique marriage of rich visual art and thoughtful essays by respected contemporary Soto Zen Buddhist teachers. Vibrant abstract miniatures by M. Winston, a brilliant African-American artist and member of a prison sangha, are paired with ten articles ranging from the scholarly to the deeply personal. Dale Wright, author of Buddhism, What Everyone Needs to Know, says of this work edited by Tonen O'Connor, "Illumination is the best word to describe this wonderful book." The unusual combination of artistic vision and Buddhist insight has also received high marks from Muhammad Isa Sadlon, retired Executive Director of the Milwaukee Art Museum: "The artwork is lush, gorgeous. The book is a great success. Layout, art and essays amplify one another."Asked to respond to the third of the Four Great Bodhisattva Vows, "Dharma Gates Are Boundless, I Vow to Enter Them," Koun Franz, Konjin Gaelyn Godwin, Seigen Hartkemeyer, Daishin McCabe, Enkyo O'Hara, Zuiko Redding, Daigaku Rummé, Jisho Sara Seibert, Brad Warner and Gyokei Yokoyama have recounted their personal experiences of dharma gates, in what Rev. Dr. Daijaku Kinst, Institute of Buddhist Studies, Graduate Theological Union, describes as " words whose honesty and insight inform and transform us."These essays offer us an opportunity to examine how we ourselves understand Dharma or "the truth of how things are," as well as varied perspectives that urge us to look closely at the dharma gates in our own lives. Each painting, by an artist whose work is carried by a well-respected gallery in Milwaukee, Wisconsin, and has been shown in New York, invites us to go beyond words and break through into intuitive understanding that rises from limitless depths of color and light. Each reading of the work offers new insights, both visual and literary, into the heart of Zen Buddhism.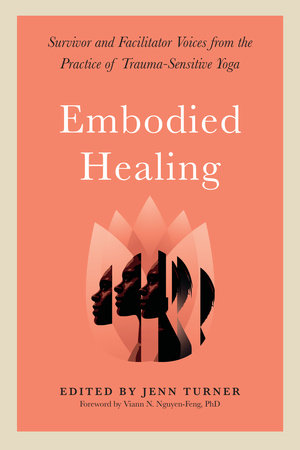 First-hand essays of embodied healing from the Center for Trauma and Embodiment at Justice Resource Institute: challenges, triumphs, and healing strategies for trauma-sensitive therapists and yoga teachers. All editor proceeds from Embodied Healing will fund direct access to Trauma Center Trauma-Sensitive Yoga (TCTSY).

This collection of essays explores the applications of TCTSY–Trauma Center Trauma Sensitive Yoga–as a powerful evidence-based modality to help clients heal in the aftermath of trauma. Written by a range of contributors including yoga facilitators, survivors, and therapists, the first-hand accounts in Healing with Trauma-Sensitive Yoga examine real-life situations and provide guidance on how to act, react, and respond to trauma on the mat. Each essay centers the voices, wisdom, and experiences of survivors and practitioners who work directly with trauma-sensitive embodiment therapies.

From navigating issues of touch and consent to avoiding triggers, practitioners and readers will learn how to support survivors of trauma as they reintegrate their bodies and reclaim their lives. Organized into sections based on principles of trauma-sensitive yoga–experiencing the present moment, making choices, taking effective action, and creating rhythms–the 12 essays are for yoga teachers, therapists, survivors, and mental health professionals and trauma healers.